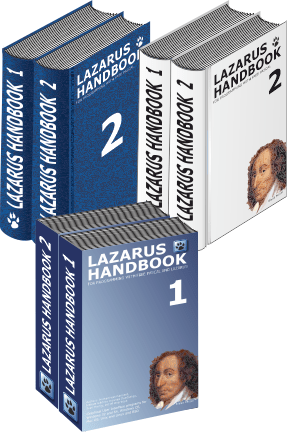 Latest update about the Lazarus Handbook
The Lazarus Handbook 
Comments: (not faked, but real mail message)
Today: 20/2/2021
Hallo Herr Overbeek,
die Bücher sind angekommen!
Respekt für die klasse Verpackung. Da können sich andere Lieferanten eine Scheibe abschneiden.

Die Bücher sind den Aufpreis zum Paperback auf jeden Fall wert und sind sehr wertig verarbeitet. Da macht es Freude drin zu lesen und damit zu arbeiten. Diese Qualität gibt es leider heute nur noch selten.
Mit freundlichen Grüßen
Willi Lethert, 

Hello There, I have just received The Lazarus Handbook, what a beautiful work ! I was very impressed by the first glance I had with the pdf version, the text is very rich and full of informations, also well structured, but I didn't expect the physical books to be such a pleasure to look at and handle.Thank you for this beautiful job, you have done something rare by the time being. It is going to be a pleasure to work with these manuals, and they will last for long. Have a nice day, keep doing well, thanks a lot,
Thierry
Just received my copy of the Lazarus Handbook. The books are beautiful. Real craftsmanship.
A pleasure to read. Thank you. You and everyone involved have delivered real craftsmanship. Best regards,
J. W. - OctoLynx
Dear Sir, i've just received the *Books* (pre-ordered in 2018) well, they are really nice. They are quality books (as you said back in 2018) and looking at all others IT books i already have, they are the highest quality and finish and by far so many thanks for all this and they are worth any penny. Now I don't know what will be next Books 1 & 2 but could this be the beginning of a "Pascal Encyclopedia". Looking forward a book 3 ... covering pas2js ? Thanks again and kind regards from France
O.RINAUDO
Thank you for keeping me informed about the progress of the Handbook and for making draft PDFs available during its gestation. I am now pleased to report that the printed version has been safely delivered to me. I realize that the production of the book has been a huge effort, and I would like to congratulate you and the other authors for a piece of work that you should all be very proud of. I look forward to using it as my go-to reference now and in the future.
Kind regards N.A. (UK)
See also our newest windows installer for Lazarus 2.0.10 Free WebCore
---
Any questions please refer to admin@blaisepascalmagazine.eu and we will answer asap.
For direct contact: editor@blaisepascal.eu
Hier is the complete chapter overview in pages
Lazarus Handbook Content overview
Hier is the complete chapter preview of all first pages