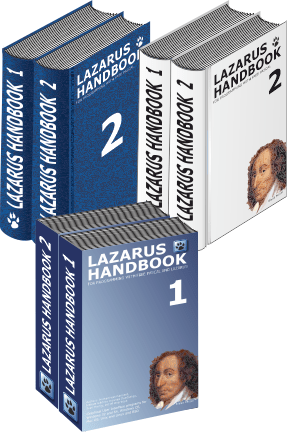 News about the Lazarus Handbook version 17
A new update has arrived: Saturday 23-May-2020
Customers have been mailed where to download!
If you are a customer and have not received an email about the latest release please let us know: admin @ blaisepascalmagazine.eu
The spaces have been left on purpose! Saturday 23-May-2020 the new version has been send.
Total Page numbers will be about 1200 so because of that we have created a new plan to decrease the number of pages.
In this new setup we downsized the font from Garamont 11 to Garamont 10.
The printed version of the book will consist of two parts of approximately 600 pages.
The whole book will contain about 1200 pages.
With the printed version you will receive a PDF version of the book for free,
A version of the preview of the Lazarus Handbook has been created.
The preview is created from version 15.3 
All the available chapters are clickable. We added the new total-page numbers:
Now you can see the chapter title and its page number within that chapter.
We also added a total-page number.
This is placed in the middle of the right column on the page, see the example page:
Left Top the chapters Name. In the middle the chapters number and page number.
At the right the page number of the book,
which is used for searching through the Indexed Paging at the end of the book

We also added a complete index where you can look to find your subject or keyword,
on the end of the Content
You also can use the internal binary search index of the document: 
In Adobe, go to → Edit → Advanced search | click on it and enter your search text.
You will get a list of items. You will see that it is very fast, because this index is binary and internal.
These are the files that are published now. The book contains extra info about what is ready.
We now have added an Index at the end of the chapters.
Here you can see the Content overview: Click...
It would be very nice if you report any error to us.If you need to make contact: office @ blaise pascal.eu. (remove the spaces) or call +31 06 2123628. Detlef Overbeek will answer your call.
There are still chapters to be added. In order to get the file please send your email. For new buyers of the PRESALE version the same procedure will be available.
We will then send the file at once.  Send to office @ blaise pascal.eu
If you would like to see a more detailed overview of the book go to page: