SPECIAL OFFERS
Latest news of the FPC and Lazarus team

We are  organizing a new event on  Saturday 3 November 2018.
For the program click here
For registration go to this page (click...)
---
Free trial for new subscribers
and students: (click...)


(on top of what you have already)
if you renew now you will get an extra year subscription and the USB stick Credit card including the Blaise Pascal Magazine Library for only € 25 extra.
Total Amount € 75 including the Download Subscription for one year.
Total Amount for the printed version € 260 including the Printed and Download Subscription for one year.
---
SUMMER PACKAGE OFFER


1 Computer Graphics Math and Games
2 1-year Subscription Blaise Pascal Magazine
3 Learn To Program Using Lazarus
4 The all-in LIBRARY of all Blaise Pascal Magazines up to 2018 (called Lib-Stick) on a
5 Credit card Usb Stick.
---
PREORDER SALE BOOK LAZARUS / FPC : LAZARUS HANDBOOK 


The book is written by the  main writers
and the making of the book 
New Issue 75 coming
With the ever growing number of TMS WEB Core UI controls we have and the ever growing complexity, testing web UI controls becomes a non-trivial task. Our team clearly has a need to allow an efficient way testing not only by the developer of the UI controls but also by other users. One of the chores for testing a UI control with numerous settings that affect the appearance and the behavior, is that typically an application needs to be developed that will surface all the combinations of settings. And then we are not yet talking about interactions between multiple UI controls. So, we found ourselves both writing a lot of test application code and also going a lot through the cycle of configuring a UI control, compile, run, test and repeat with other configurations.
The new issue 75 will be published this month: Here is the next Cover
Starting the conference
"Times they are a changin..."
an old song of Bob Dylan. So actually anything changes all the time: I was very much surprised these days when I was doing some research about the Quantum Internet that there will be soon some rigorous new developments to happen in two years: 2020!
Read the transcript (page 30) of this TEDx where Stephanie Wehner is explaining what the Quantum Internet means: A step for mankind as big as the creating of the internet in 1969, as big as Columbus discovering the Americas in 1492. And even bigger. Put it in to your Agenda...
I am always fascinated by these kind of amazing and even fantastical developments but we have done quite some developments of our own:
(I mean we as a Pascal community).
We created Pas2 JS, the Webcore component group from TMS, the FNC component group - again from TMS and now we have a new phenomena:
the gaming suite...Why is that so special?
Because you now can make your own 2D and 3DGames. Because that means you can create your own 3D live software and because something very special is coming on that ever has been my greatest dream:
I want to make Pascal available to children in the most purest and simplest way:
let them play with Pascal. How?
Quite simple: this gaming engine makes it possible for a child to have a form where you can draw on, create your own house or bear or cat or car and... move it live around on the paper.
Turn it around or make 3D of it. And...on the other form you immediately can see the code. You can see it changing live.
And backwards: if you change the code the tree will grow - or shrink! Live.
But that's not all: I would really like the kid to learn some of the directives that you need for pascal code writing: think of that apple falling from the tree - which Mr. Newton experimented with , then remember the steps: if - then else? What about an array? Pretty easy to draw...
Imagine...
How fabulous would that be - explaining code to a child and let it try it by altering the statement through drawing it?
And vice versa...
learning all the essential bits and pieces through playing?
I will show it to you in Köln/Bonn next Saturday (22 September) with the help of Michalis Kamburelis who is the developer of all that beautiful stuff.
Imaging you your self could in code write a scenario where you can walk through a building and let your customer have a preview and tell you where the cables, the communications and what other things could go by walking through that building... and all that is done in ONE Language: Pascal!
I think we are quite well on the way to make Pascal the tool it should be: a great tool for everyone in whatever situation on whatever platform...
If this really interests you:
come to the Lazarus Professional Conference next weekend: 20/21/22
of September. The Saturday (22) is the best way for you to get value for your money: you will get the Library Credit Card USB Stick for free! If you come, send us your request for the voucher code and we will make sure you will get extra discount... office@blaisepascal.eu
Very special news in this Item:
Michalis Kamburelis presents his new 
Creating 2D and 3D Games Using Castle Game Engine
Build your own house or office and walk through it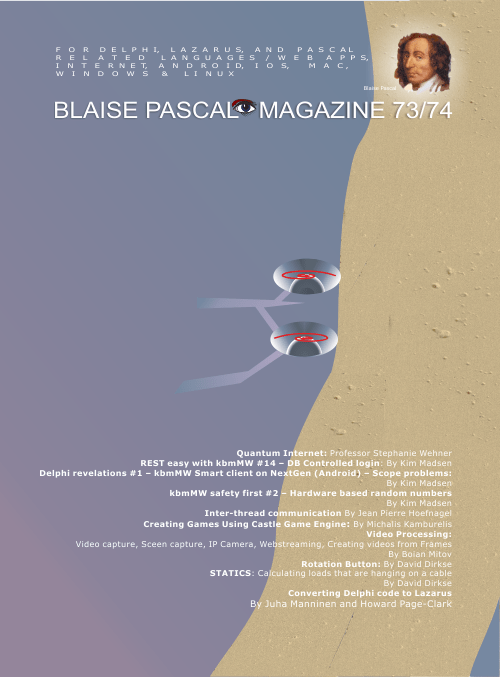 Quantum Internet: Professor Stephanie Wehner
REST easy with kbmMW #14 – DB Controlled login: By Kim Madsen
Delphi revelations #1 – kbmMW Smart client on NextGen (Android) – Scope problems:
By Kim Madsen
kbmMW safety first #2 – Hardware based random numbers
By Kim Madsen
Inter-thread communication By Jean Pierre Hoefnagel
Creating Games Using Castle Game Engine: By Michalis Kamburelis
Video Processing:
Video capture, Sceen capture, IP Camera, Webstreaming,Creating videos from Frames
By Boian Mitov
Rotation Button: By David Dirkse
STATICS: Calculating loads that are hanging on a cable
By David Dirkse
Converting Delphi code to Lazarus
By Juha Manninen and Howard Page-Clark
Location: "In de huiskamer" Address:  Kerkstraat 23 IJsselstein – Netherlands Date: Saturday 3 November 2018 For details you can call +31 6 21 23 62 68 or send an email to office(at)blaisepascal.eu For Registration (click here) Program: all of these presentations will be spoken in English, and Dutch  as well eventually German 9.00 – 9.30 Registration … Read More