SPECIAL OFFERS
Direct Link to
TMS SOFTWARE
WEB COMPONENTS
---
(on top of what you have already)
if you renew now you will get an extra year subscription and the USB stick Credit card including the Blaise Pascal Magazine Library for only € 25 extra.
Total Amount € 75 including the Download Subscription for one year.
Total Amount for the printed version € 260 including the Printed and Download Subscription for one year.
---
SUMMER PACKAGE OFFER


1 Computer Graphics Math and Games
2 1-year Subscription Blaise Pascal Magazine
3 Learn To Program Using Lazarus
4 The all-in LIBRARY of all Blaise Pascal Magazines up to 2018 (called Lib-Stick) on a
5 Credit card Usb Stick.
---
PREORDER SALE BOOK LAZARUS / FPC : LAZARUS HANDBOOK 


The book is written by the  main writers
and the making of the book 
New Issue 75-76
Extra photos from the Paris Lancement (Click....)
The new issue has arrived (75-76)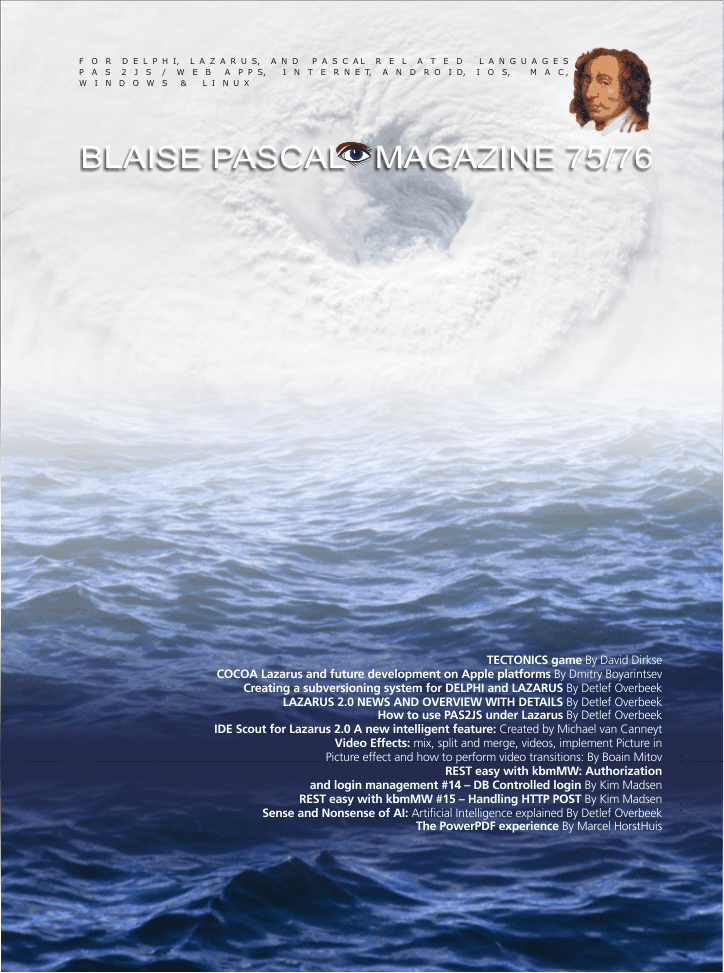 TECTONICS
game By David Dirkse
COCOA Lazarus and future development
on Apple platforms By Dmitry Boyarintsev
Creating a subversioning system for DELPHI and LAZARUS
By Detlef Overbeek
Lazarus 2.0 News and overview
By Detlef Overbeek
How to use PAS2JS under Lazarus
By Detlef Overbeek
IDE Scout for Lazarus 2.0 A new intelligent feature: Created
By Michael van Canneyt
Video Effects: Mix, Split and Merge, Videos, implement Picture in
Picture effect and how to perform video transitions: By Boian Mitov
REST easy with kbmMW:
Authorization and login management #14 – DB Controlled login
By Kim Madsen
REST easy with kbmMW #15 – Handling HTTP POST
By Kim Madsen
Sense and Nonsense of AI: Artificial Intelligence explained
By Detlef Overbeek
The PowerPDF experience
By Marcel HorstHuis
Bruno Fierens showed webcore and web applications with Delphi in Paris. I was a fantastic ambience and the attendees loved the presentations… Blaise Pascal Magazine was of course also available: All attendee got the latest issue for free. All the subjects that were handled are on the list. You can download them from this address:(Click…)