SPECIAL OFFERS
Free Christmas Clock and Month Calendar including clock,
project and installer.
---
(Only valid until end of 2018)
75 euro ex vat
The greatest Christmas offer:
4 Items
• 1-year Subscription 
   Blaise Pascal Magazine as PDF 
• Programming, Computer Graphics
Math and Games (ex shipping,
   including the PDF file and 50 projects)
• Learn To Program
Using Lazarus as PDF
(incl. 19 lessons and programs)
• The NEW all-in LIBRARY of all Blaise
   Pascal Magazines incl. Code
   Nr. 1 - up to Nr. 76 (called Lib-Stick)
on a credit card like Usb Stick
---
PREORDER SALE BOOK LAZARUS / FPC : LAZARUS HANDBOOK 


The book is written by the  main writers
and the making of the book 
Next issue 77 soon coming
The new Delphi Rio
PAS2JS
Biljard
Calendar Projects
Bluetooth in Chrome
The new TMS Webcore 1.1
REST easy with kbmMW #18 – HTTP – Headers and cookies
kbmMW Professional and Enterprise Edition v. 5.07.00 released!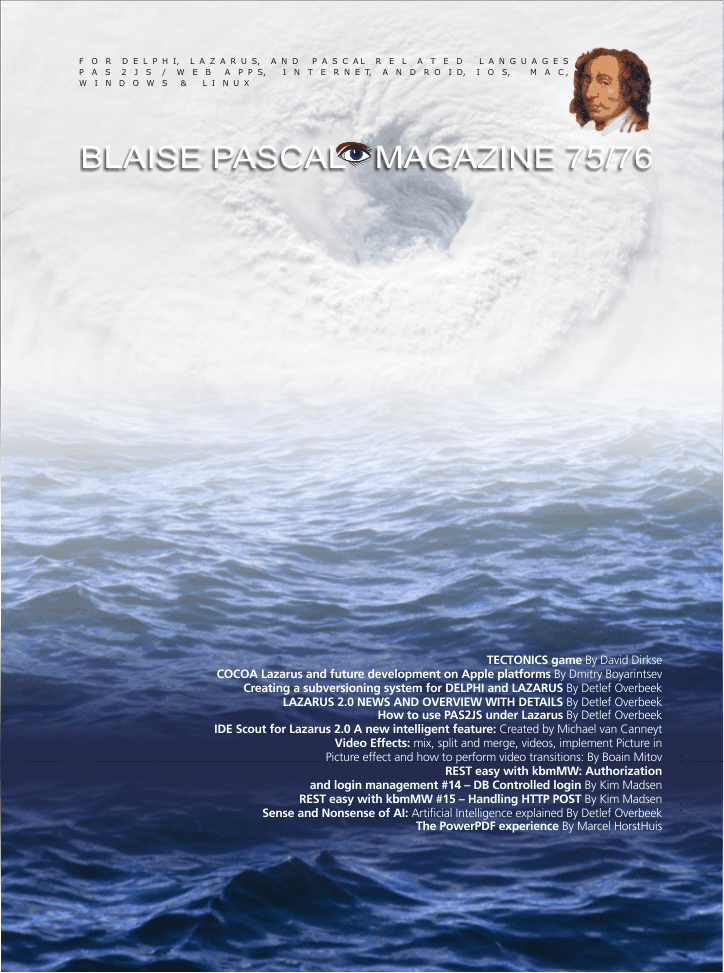 TECTONICS
game By David Dirkse
COCOA Lazarus and future development
on Apple platforms By Dmitry Boyarintsev
Creating a subversioning system for DELPHI and LAZARUS
By Detlef Overbeek
Lazarus 2.0 News and overview
By Detlef Overbeek
How to use PAS2JS under Lazarus
By Detlef Overbeek
IDE Scout for Lazarus 2.0 A new intelligent feature: Created
By Michael van Canneyt
Video Effects: Mix, Split and Merge, Videos, implement Picture in
Picture effect and how to perform video transitions: By Boian Mitov
REST easy with kbmMW:
Authorization and login management #14 – DB Controlled login
By Kim Madsen
REST easy with kbmMW #15 – Handling HTTP POST
By Kim Madsen
Sense and Nonsense of AI: Artificial Intelligence explained
By Detlef Overbeek
The PowerPDF experience
By Marcel HorstHuis
Date of quotation: Saturday 15 December 2018 We just were able to add Anonymous functions to PAS2 JS. √ Pas2JS Anonymous functions – Finalized 15/12/2018  ←  ← The next version of PAS2JS will become available in version 1.2. We are starting on Pas2JS Advanced records – tendered. project started  ← We now need to go to crowdfund to enable the creation of … Read More