SPECIAL OFFERS
The Contactform has been repaired.

New Year Offer 2019:
(Only valid until end of 2018)
100 euro ex vat
The New Year offer:
5 Items
1 one year Subscription 
   Blaise Pascal Magazine as PDF 
2 Programming, Computer Graphics
Math and Games (ex shipping,
   including the PDF file and 50 projects)
3 Learn To Program
Using Lazarus as PDF
(incl. 19 lessons and programs)
4 The NEW all-in LIBRARY of all Blaise
   Pascal Magazines incl. Code
   Nr. 1 - up to Nr. 76 (called Lib-Stick)
5 credit card like Usb Stick
There is a very new version of our calendar program.
You can get the app for free. If you have a subscription
you can also download and installation code.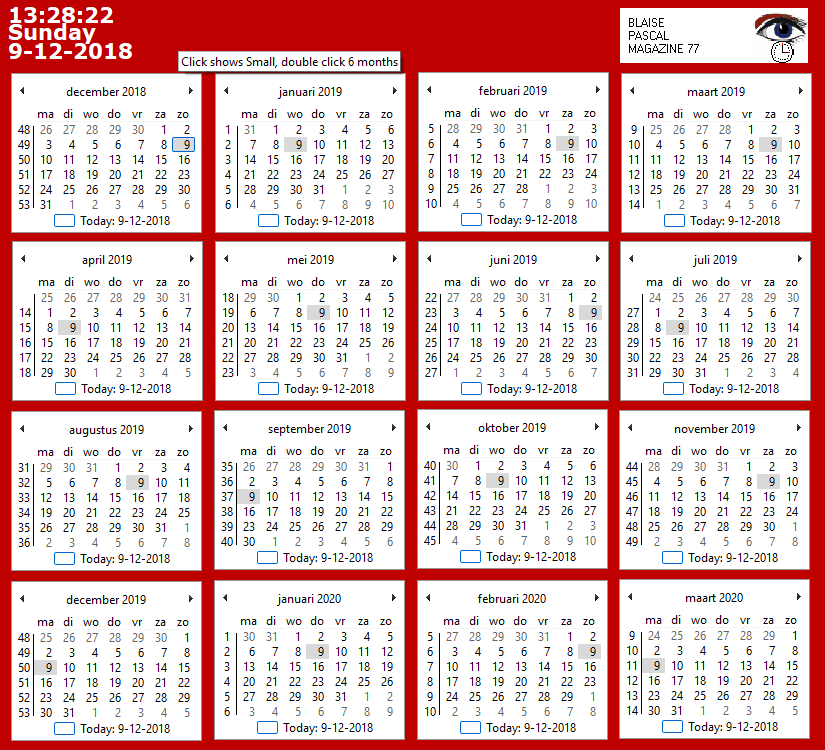 ---
PREORDER SALE BOOK LAZARUS / FPC : LAZARUS HANDBOOK 


The book is written by the  main writers
and the making of the book 
February 14th, Delphi's birthday,
here are some extra promotions:
1- Subscription for one year (download)
and as an extra the famous Lib-Stick (Blaise Pascal Magazine Library) Download
for only € 75 ex Vat
2. - Subscription for one year (download)
- the famous Lib-Stick (Blaise Pascal Magazine Library) download
- Computer math and games and graphics (David Dirkse) download
for only € 100 ex VAT
3.- Presales Lazarus Handbook Pocket + Subscription 1 year free download
for only € 60 ex Vat

---
PAS2JS now supports Type Helpers

first release candidate of pas2js 1.4.0.
Changes: Snapshots: SVN release tag: SVN fixes branch: 
---
New Lazarus 2.0 Released
February 05, 2019, 12:13:56 pm
free to download (click...)
---

Issue 77 published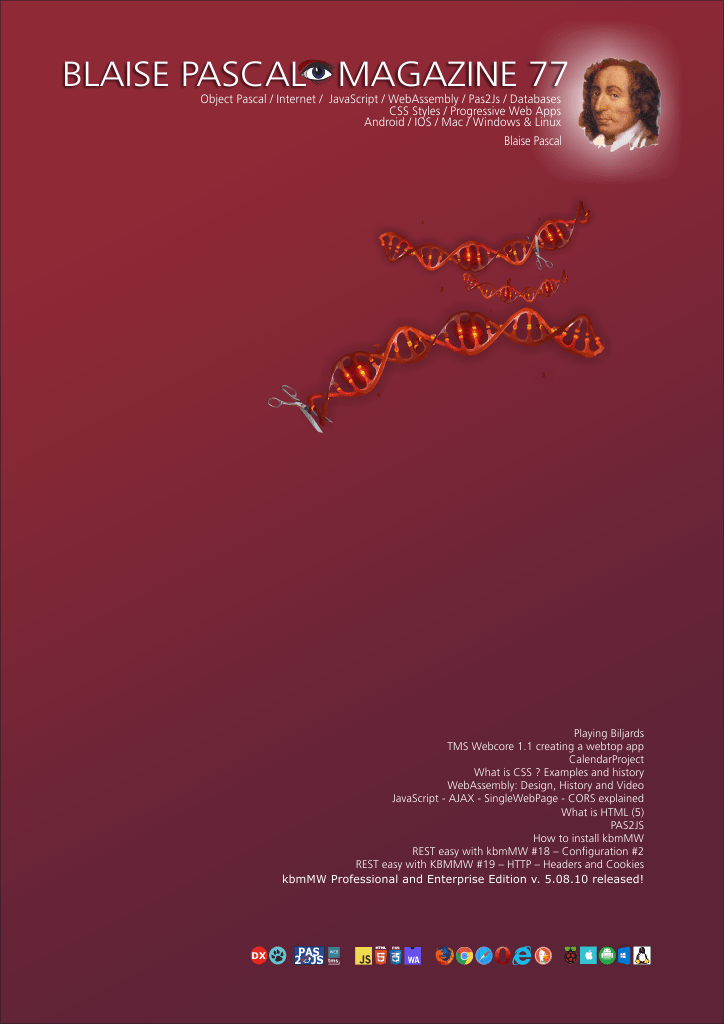 Playing Billiards 
How to calculate the movements
By David Dirkse
TMS Webcore 1.1 creating a webtop app Desktop on the Internet
By Bruno Fierens
Calendar Project Creating your year-month calendar and
connect your data with a Clientdataset: Memtable 
By Detlef Overbeek
What is CSS ? Examples and history
WebAssembly Design, History and Video
JavaScript Historical overview
AJAX What is it? How does it work?
SingleWebPage
Client server against single web page
CORS
Cross-Origin Resource Sharing explained
What is HTML (5)
Explanation and Historical overview
PAS2JS First article about the architecture
By Mattias Gärtner and Detlef Overbeek
How to install kbmMW
By Detlef Overbeek
REST easy with kbmMW #18 – Configuration #2
By Kim Madsen
REST easy with KBMMW #19 – HTTP – Headers and Cookies
By Kim Madsen
kbmMW Professional and Enterprise Edition v. 5.08.10 released!
By Kim Madsen
Date of quotation: Thursday 10 January 2019 We just were able to add Anonymous functions to PAS2 JS. √ Pas2JS Anonymous functions – Finalized 15/12/2018  ←  ← √ Pas2JS Advanced records – Finalized. 10/1/2019  ←  ← We have started on Type Helpers  , when these are doen we will go to Atrributesafter that still follows this: Operator overloading Integer Overflow We now need … Read More