SPECIAL OFFERS
Special Summer Offer:
order  the Presale of the Lazarus Handbook.
you can pre-order:
(you will always receive the included updates
of the latest preview PDF file.)
1. Hard-cover - you will get the hardcover
as well the PDF file.
2. Pocket (soft cover)
- you will get the softcover as well the PDF file.
3. The PDF file of the Book
- if you order the PDF file you will receive a
personalized protected version of the book.
Because of the continuous development of
the software and language we will regularly
update the future PDF for all buyers sof the
book. This will of course be free during the
first year. That means you can buy a
subscription for the coming years.
So if you Pre-order now we will give you
a free subscription for the second year.
We have created a special example
pdf file for the book to give you an
impression of all already is available.

The new issue 80 has been published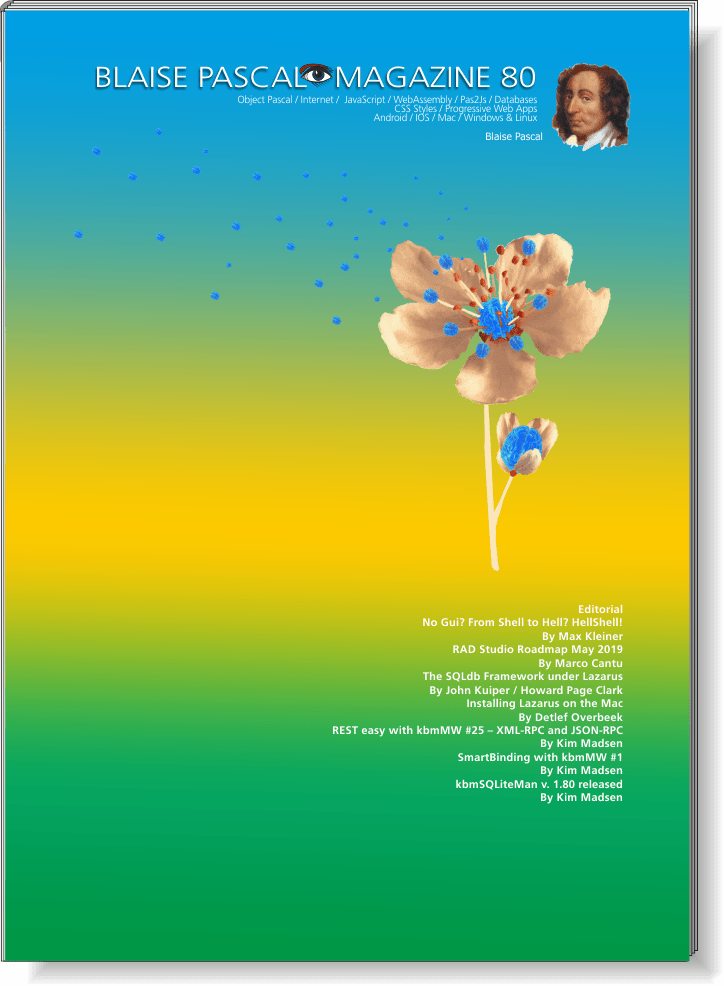 No Gui? From Shell to Hell? HellShell! 
By Max Kleiner
RAD Studio Roadmap May 2019
By Marco Cantu
The SQLdb Framework under Lazarus Page16
By John Kuiper / Howard Page Clark
Installing Lazarus on the Mac Page 30
By Detlef Overbeek
REST easy with kbmMW #25 – XML-RPC and JSON-RPC
By Kim Madsen
SmartBinding with kbmMW #1 Page 45
By Kim Madsen
kbmSQLiteMan v. 1.80 released Page 54
By Kim Madsen

From the Editor:
it's interesting to see how our community evolves and what kind questions are raised.
One of the most intriguing is of course what is the future of Delphi. Having asked this question many times, here it was al of the sudden.
Embarcadero, by the name of our well-known Italian Delphi Master Marco Cantu came up with the latest new plans for the Future.
I thought it was so important that we would publish them so all of our readers would be able to take a good look at it.
Conclusions?
Difficult to make yet. Even though there are no real big new items to find, all necessary stuff.
Some great news for Firemonkey lovers: support for iOs and Android and Android native controls. Mac iOs 64 bit support and maybe in 2020 (under consideration) support for Raspberry Pi windows ARM.
For the long term: later this year the 10.4 version - probably September or so.
I see nor real improvements that we all had hoped for: something like the IOT support ore internet support at all. The new roadmap of Delphi you can find it at page: 11.
I am glad that there is a company like TMS that is developing the WEB Core. Updated to 1.2 just now and we will publish the first tests in the next issue. It promises great improvements...
Lots of news about Pas2JS and Lazarus.
I finally found the time to do something that has been asked for many times: an article installing Lazarus under Mac.
We will show a number of applications ready made for Lazarus as well Delphi, while we try do things that are also interesting for starter's and experienced developers. The Puzzle suddenly seem to have quite a lot of problems so we need to solve that first. But there is more we will show some specialties which are embedded in an application:
free for use of course.
Lazarus is coming very close towards the abilities of Delphi. We are working on the very last hurdles.
At the moment we are implementing in FPC (the compiler for Lazarus) three main Items that have been sponsored by a number of companies and the community: Anonymous Functions, Attributes and RTTI.
Generics for Pas2JS are also started by Mattias Gaertner and we will try to get them done asap.
We need funding for that!
If you want to sponsor us - please let us know.
We will come up with some special actions for this. Goals for you: a guaranteed free IDE for Pascal, capable of almost anything you wish for even the internet is included.
And development is fully native.
That should be worth something to you.
Especially the fact that you can now get professional help for your projects through the Lazarus Factory. We have the best developers available. Think of a project and we will build it for you, here you can get information: professionals@lazarusfactory.org
Think of the fact that you will have an IDE that is free! You will not have to pay license costs so you can spend your money on the components you need. So help us please!
We also work on Web Assembly which will become available in the last part of the year.
About the Lazarus handbook
- I have just added the new finalized chapters for Lazarus: Installing under Windows / Linux and Mac, and then start on the ide explanations.
The book will contain something like 900 pages!
If you had pre ordered it you should have a massage about that. If not please let us know. office @ blaisepascal.eu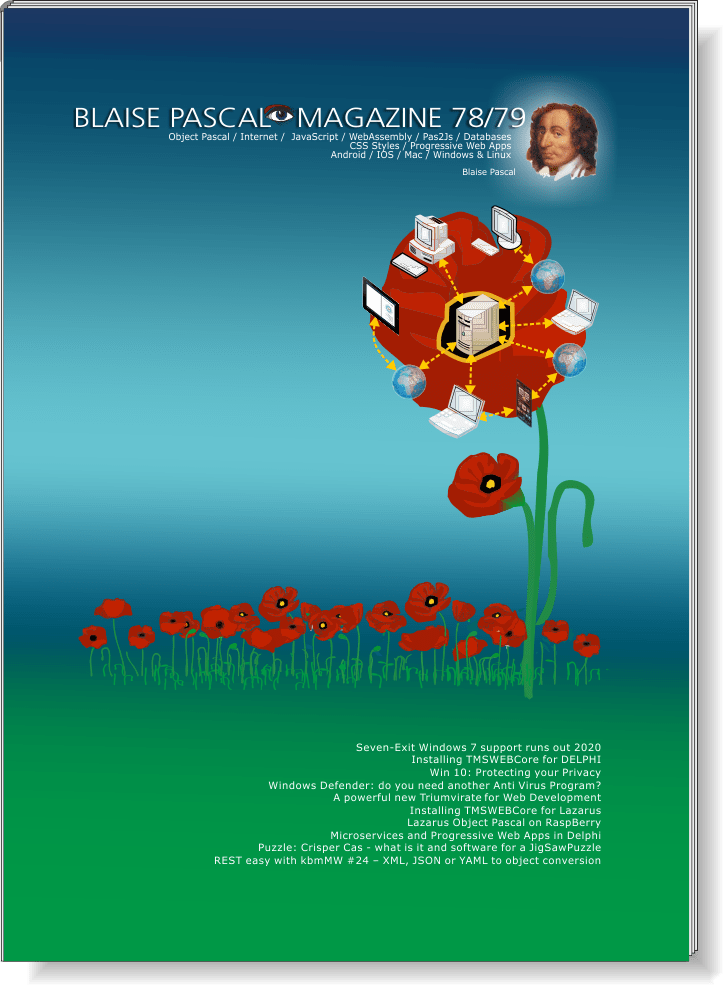 Click on this file: you can preview all the articles.
There are two versions, because the file is large you will have the choice to either download the very large file of 500 MB or a compressed version of 100 MB.
The difference in viewing will be that the quality of images can be of lesser quality.
We will try to solve this problem.

CONTENT
Seven-Exit Windows 7 support runs out 2020
Installing TMSWEBCore for DELPHI
Win 10: Protecting your Privacy
Windows Defender: do you need another Anti Virus Program?
A powerful new Triumvirate for Web Development
Installing TMSWEBCore for Lazarus
Lazarus Object Pascal on RaspBerry
Microservices and Progressive Web Apps in Delphi
Puzzle: Crisper Cas - what is it and software for a JigSaw Puzzle
REST easy with kbmMW #24 – XML, JSON or YAML to object conversion
Important news: (8 May 2019) We have the preview pdf file for download nr 8 for those subscribers that ordered a Lazarus Handbook Presales  we have now 700 pages. If your one of them you should have received the latest version already. If that is not the case please let us know. office @ blaise pascal.eu. … Read More