SPECIAL OFFERS
Special Offer 3: (click)
5 Items: Subscription for 1 year
Libstick + USB Stick / Book Learn to Program using Lazarus By Howard Page Clark (including projects) / Book Computer Graphics, Math &Games By David Dirkse

The New LibStick 2020
see the video in the middle
Details (click)
About the library 2020

Special Offers 1 (click)
4 Items: Libstick / Two Books / Subscription

Special Offer 2: (click)
4 Items: Libstick / Subscription

The Lazarus Handbook has arrived
The new setup and install (setup) file for
Lazarus 2.010 Free Webcore (TMS) - windows version
All previous browser problems now are solved.
We have developed a new Video about the use of our LIBstick and what you can do with it...
The next issue is soon to come: Nr 89

Content of the next Issue 89:
Lazarus 2.0.10 for web:
WEbCore for FREE, for Linux for Mac, and Windows,
a special to install a free group of components
Delphi - Deleaker
helps to find memory leaks in Delphi
MyCloud Data
Delphi server client app: an authors and booklist
available via the internet
Code Snippets for Delphi and or Lazarus
creating buttons and fields that can switch color depending on handling content
Untyped I/O
These records may be transferred without bothering about their internal structure.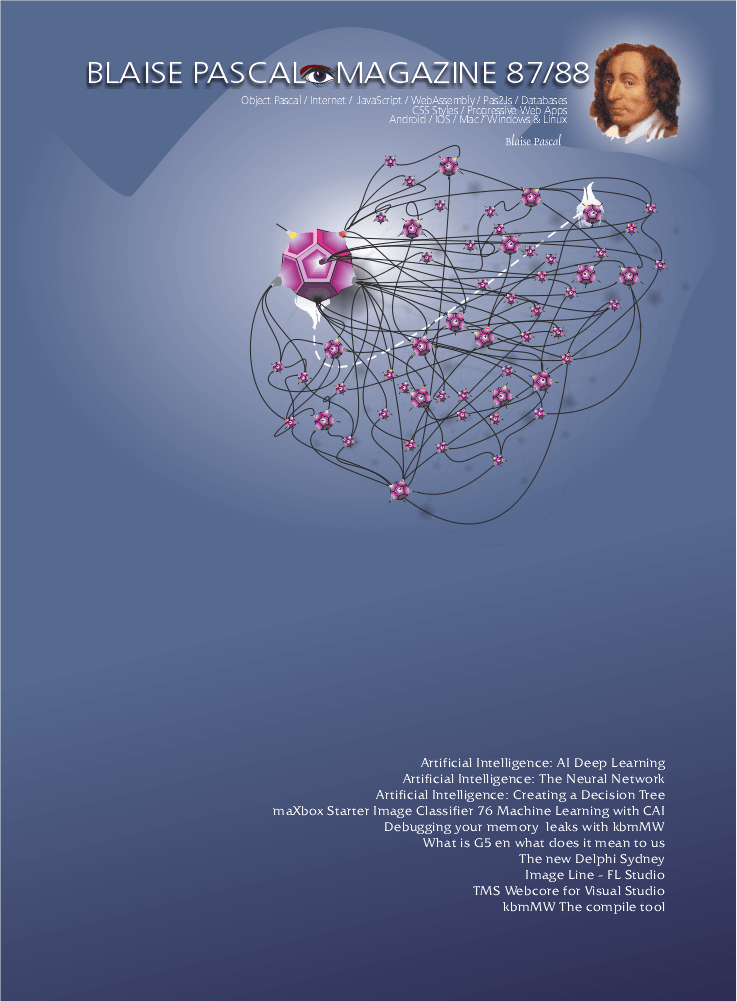 Articles 87/88
From Your Editor
Books: TMS Web App development with Delphi 
Books : Lazarus Handbook
Artificial Intelligence: AI Deep Learning 
Artificial Intelligence: The Neural Network 
Artificial Intelligence: Creating a Decision Tree 
maXbox Starter Image Classifier 76 Machine Learning with CAI
What is G5 en what does it mean to us 
The new Delphi Sydney
Image Line - FL Studio
TMS Webcore for Visual Studio
kbmMW The compile tool 
Short info about the books: The printed versions as you can see them here are at the printers. They will probably available in  2 -3 weeks. If you want to order you can now. Pricing: For the hardcover (2 volumes): 75,00 euro + 25 transport + taxes, including the pdf. 935 pages. You can also pay by bank. … Read More