SPECIAL OFFERS
Autumn 2019 Offer:
Subscription 1 year
+ Library of all Magazines on
the famous credit card USB Stick
Issues 1- 82 on USB Stick:
Normal value € 145 excl Vat
Now: € 100 ex vat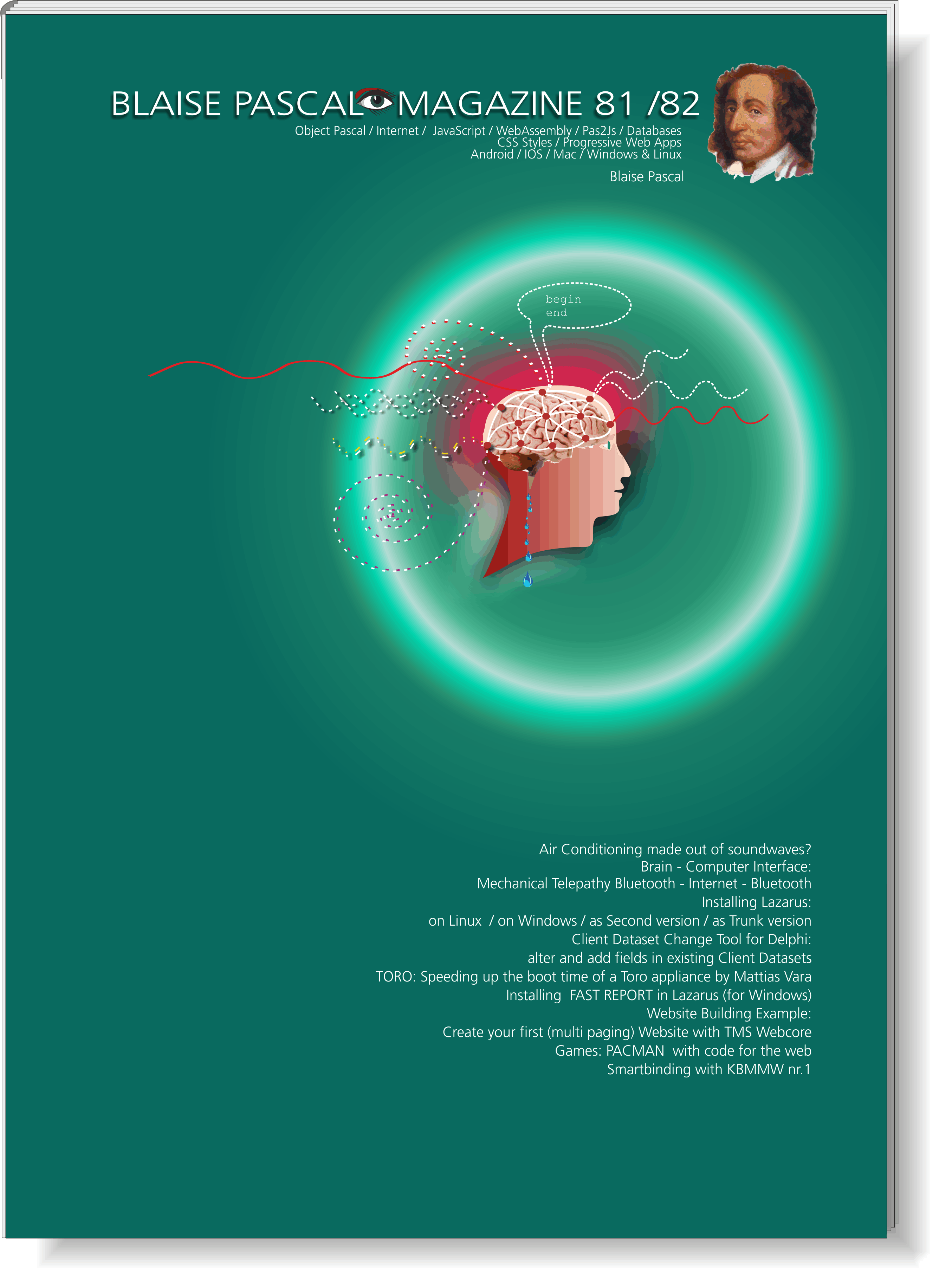 Direct Download
for active subscribers
(you need to login first)
https://www.blaisepascalmagazine.eu/my-downloads/
---
The new Libstick has arrived:

CreditCard USB-stick
4442 pages
Issues NR: 1-80
very fast search facility,
text indexed.
Also combined with
the Book about
Computer Graphics Math
& Games in Pascal
and a subscription for
Blaise Pascal Magazine
---
Special Summer Offer:
order  the Presale of the
Lazarus Handbook.
you can pre-order:
(you will always receive the included updates
of the latest preview PDF file.) For more info
see the pdf file on this website
for downloading the
the latest versions of

Lazarus
Windows / Trunk / Linux / Mac

The Book 

1. Hard-cover - you will get the hardcover
as well the PDF.
2. Pocket (soft cover)
- you will get the softcover as well the PDF.


3. The PDF file of the Book
- if you order the PDF file you will receive a
personalized protected version of the book.
Because of the continuous development of
the software and language we will regularly
update the future PDF for all buyers sof the
book. This will of course be free during the
first year. That means you can buy a
subscription for the coming years.
So if you Pre-order now we will give you
a free subscription for the second year.
We have created a special example
pdf file for the book to give you an
impression of all already is available.

---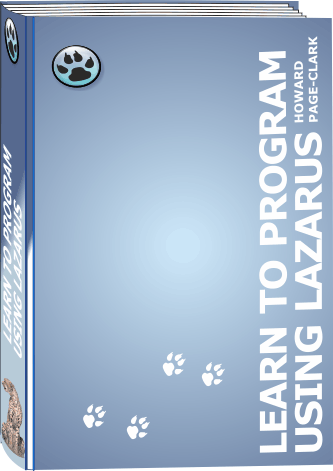 There is a preview of the book
Learn to program
using Lazarus
If you want to order the book click here
---
The Book about
Computer Graphics Math
& Games in Pascal
has a preview here:
You can buy it over here
International Lazarus Conference 29 and 30 Nov 2019 in Eindhoven Netherlands – Friday and Saturday
T‌he event address: "DE KLUIS" -Dr. Holtroplaan 1 Eindhoven CONTACT: Mobile: +31 6 21.23.62.68 Email: admin @ blaisepascalmagazine.eu .All English spoken. (German and Dutch translation available) The price includes: all drinks during the day (10.00-17.00), Lunch and coffee and thee, fresh and cake. Hotels suggestion: Inntel Hotels Art Eindhoven, Lichttoren 22, 5611 BJ Eindhoven

Register
only 29 November 2019 Friaday (Click...) 
or only 30 November 2019 Saturday (Click...)
only € 55,00 per day
Registration 2 days (Click...)
for only € 100,00
You can also ask for a bank payment: admin@blaisepascalmagazine.eu we will send an invoice.

All participants will receive a free CreditCard USB Stick wit the latest version of Lazarus:
Including mac Catalina, KbmwMemtable for Lazarus and TMSWebcore Trial version for Lazarus.
That is the very latest version of Webcore you can use with Lazarus and it has NO LIMITATIONS
The lazarus program: countdown timer

Extra Bonus: free trial version for 12 months for new subscribers.
Program day 1 : November 2019 - 09.30 – 17.30
Holger Klemt:




IBExpert.com

will show how to use Lazarus in combination with a Firebird databases and how to create a PAS2JS application with access to a Firebird database.

All used source code will be available for free and you can do the coding on your laptop at the same time.


What is needed to use this new application on your own or a customers mobile phone? See all you need to distribute your web applications and see, why app stores are completely outdated!


TMSWebcore 1.3 will be available as trial version and we will build a simple project with it.

Mattias Gärtner:




WebAssembly:

what is it, how to use. We will create a small program with it.

Using PAS2JS with or without TMSWebcore together with Bootstrap etc.
The past, present and future of PAS2JS. See also at the bottom of this page

Mattias Gärtner:
The new version of Lazarus 2.0.6, t

he past, present and future of the Lazarus IDE




Tips and Tricks for using the Lazarus IDE with a focus on experienced Delphi developers:


How to write code that can be compiled in both worlds with basic examples
How to convert existing Delphi code
Mattias

Gärtner

:




The new

Mac version for Lazarus 2.0.6: Catalina


In the evening we will have an informal dinner for all participants that want to come
Program day 2 :
Lazarus Advanced topics and components for Delphi and Lazarus developer
30 November 2019 - 09.30 – 17.30
Holger Klemt: Basic database programming in Lazarus with SQL DB, IBDAC and other components
Built in Reporting Lazreport
Anton Vogelaar: 
Bluetooth connections based on Google API for Android (Chrome) and PAS2JS components

Detlef Overbeek:


KBMmwMemtable  Change tool program: the only ClientDataset with SQL search.


Bruno Fierens: 

GREAT NEWS:

Still

"SECRET"
TMS Software: Crossplattform Components for Lazarus, Delphi and
Webcore

news about Webcore version 1.3 and other TMS products for Lazarus
The Lazarus factory:
What we can do for your company and your personal Lazarus know-how?
Modular public Lazarus training's and individual Workshops in your company 


Helping hands and Hotline Service




The new Lazarus book 

Detlef Overbeek:

Installation and working with

FastReport 6.0

in Lazarus

---
If you experience any problems with your browser please try one of the others: Chrome, Firefox, Microsoft or Opera
---
We now have WEBASSEMBLY available for Pascal: FPC and Pas2Js.
Dmitry Boyarintsev succeeded in making it available for us. Here is the Game of live running under Pascal, click to see the live running Game of Live

WebAssembly (often shortened to Wasm) is an open standard which defines a portable binary code format for executable programs, and a corresponding textual assembly language, as well as interfaces for facilitating interactions between such programs and their host environment. The main goal of WebAssembly is to enable high performance applications on web pages, but the format is designed to be executed and integrated in other environments as well.
Wasm does not replace JavaScript; in order to use Wasm in browsers, users may use Fast Report, Pas2JS or Pascal source code into a binary file which runs in the same sandbox as regular JavaScript code Emscripten provides bindings for several commonly used environment interfaces like WebGL.
---
Great news: (8 November  2019) A new version of the preview of the Lazarus Handbook has been created. This is version 10. All the available chapters are clickable. We have updated the following chapters: (about 100 pages) 2.1 Global overview IDE 1.File / 2.Edit / 3.Search / 4.View + 11.7 System We will try to … Read More
Hello dear reader, we want you to know and make sure that at any time you can ask for the details we have registered about you. So we could show that to you or if you wish of course remove any unwanted details we have.So far we have nothing but your address, sometimes telephone, email … Read More