SPECIAL OFFERS
Error correction: Item nr 77
has been made available for download
for subscribers.
Items
1 one year Subscription 
   Blaise Pascal Magazine as PDF 
2 Programming, Computer Graphics
Math and Games (ex shipping,
   including the PDF file and 50 projects)
3 Learn To Program
Using Lazarus as PDF
(incl. 19 lessons and programs)
4 The NEW all-in LIBRARY of all Blaise
   Pascal Magazines incl. Code
   Nr. 1 - up to Nr. 76 (called Lib-Stick)
5 credit card like Usb Stick
There is a very new version of our calendar program.
You can get the app for free. If you have a subscription
you can also download and installation code.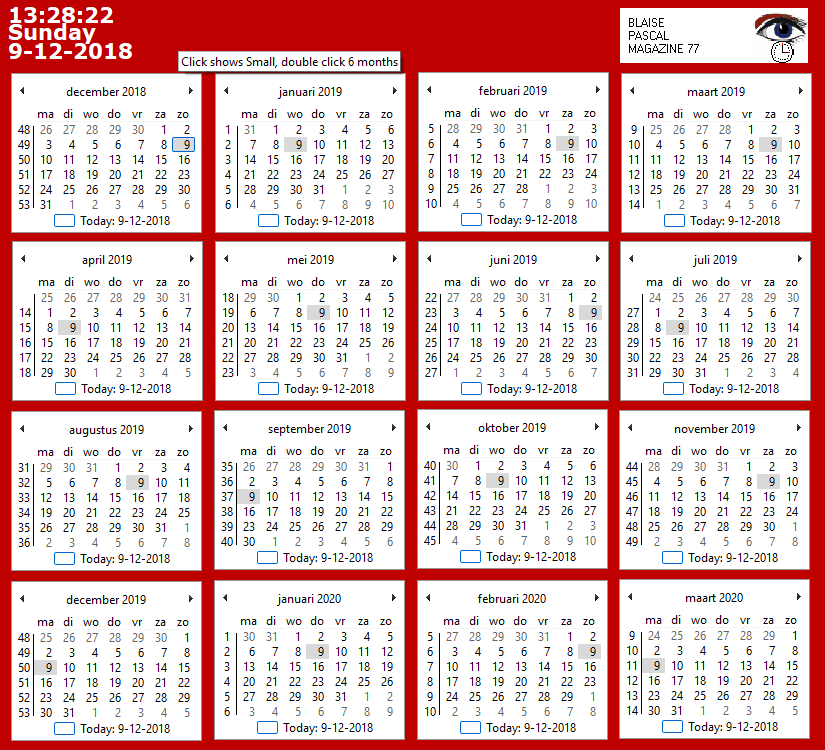 ---
PREORDER SALE BOOK LAZARUS / FPC : LAZARUS HANDBOOK 


The book is written by the  main writers
and the making of the book 
The next Double Issue 78/79 has been published - 120 pages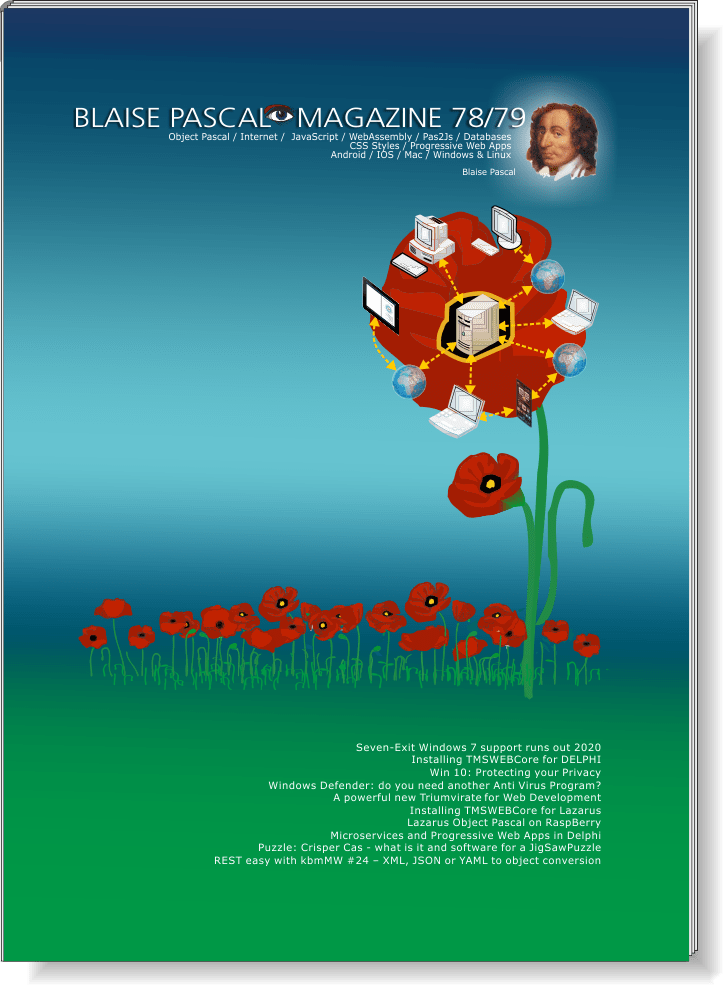 Click on this file: you can preview all the articles.
There are two versions, because the file is large you will have the choice to either download the very large file of 500 MB or a compressed version of 100 MB.
The difference in viewing will be that the quality of images can be of lesser quality.
We will try to solve this problem.

CONTENT
Seven-Exit Windows 7 support runs out 2020
Installing TMSWEBCore for DELPHI
Win 10: Protecting your Privacy
Windows Defender: do you need another Anti Virus Program?
A powerful new Triumvirate for Web Development
Installing TMSWEBCore for Lazarus
Lazarus Object Pascal on RaspBerry
Microservices and Progressive Web Apps in Delphi
Puzzle: Crisper Cas - what is it and software for a JigSaw Puzzle
REST easy with kbmMW #24 – XML, JSON or YAML to object conversion
Date of quotation: Thursday 10 January 2019 We just were able to add Anonymous functions to PAS2 JS. √ Pas2JS Anonymous functions – Finalized 15/12/2018  ←  ← √ Pas2JS Advanced records – Finalized. 10/1/2019  ←  ← We have started on Type Helpers  , when these are doen we will go to Atrributesafter that still follows this: Operator overloading Integer Overflow We now need … Read More