SPECIAL OFFERS
Special Summer Offer:
order  the Presale of the
Lazarus Handbook.
you can pre-order:
(you will always receive the included updates
of the latest preview PDF file.) For more info
see the pdf file on this website
1. Hard-cover - you will get the hardcover
as well the PDF.
2. Pocket (soft cover)
- you will get the softcover as well the PDF.

3. The PDF file of the Book
- if you order the PDF file you will receive a
personalized protected version of the book.
Because of the continuous development of
the software and language we will regularly
update the future PDF for all buyers sof the
book. This will of course be free during the
first year. That means you can buy a
subscription for the coming years.
So if you Pre-order now we will give you
a free subscription for the second year.
We have created a special example
pdf file for the book to give you an
impression of all already is available.

---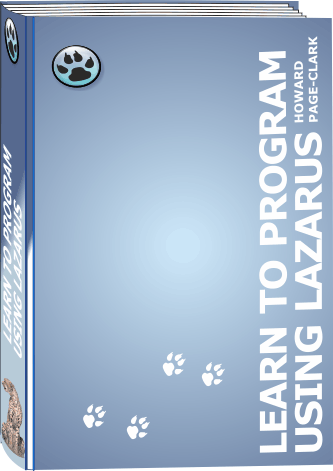 There is a preview of the book
Learn to program
using Lazarus
If you want to order the book click here
---
The Book about
Computer Graphics Math
& Games in Pascal
has a preview here:
You can buy it over here
Great news from FreePascal and Lazarus and PAS2JS
Just for your Pleasure: Michael van Canneyt has developed to small games for PAS2JS: Tetris and Pacman.The Android Phone version for Pacman will be developed later. The programs will be explained in the next Issue.

Michael had also developed a special version to drop code and then compile so you can easily see the result. If you want to use it please first load the units. You need that, otherwise you will get an error.
All the source code will be including some new examples available in the next issue.
---

For Freepascal: We have accomplished the the finalizing of Attributes. It will become available in the next version of FPC .We have given the order to go further with Extended RTTI and with Anonymous function. For Lazarus: A spectacular development: Project Grouping. You can find details here:

For Pas2JS: streaming of components now works in the classes unit. The development of Generics has started. The details for this you can find here;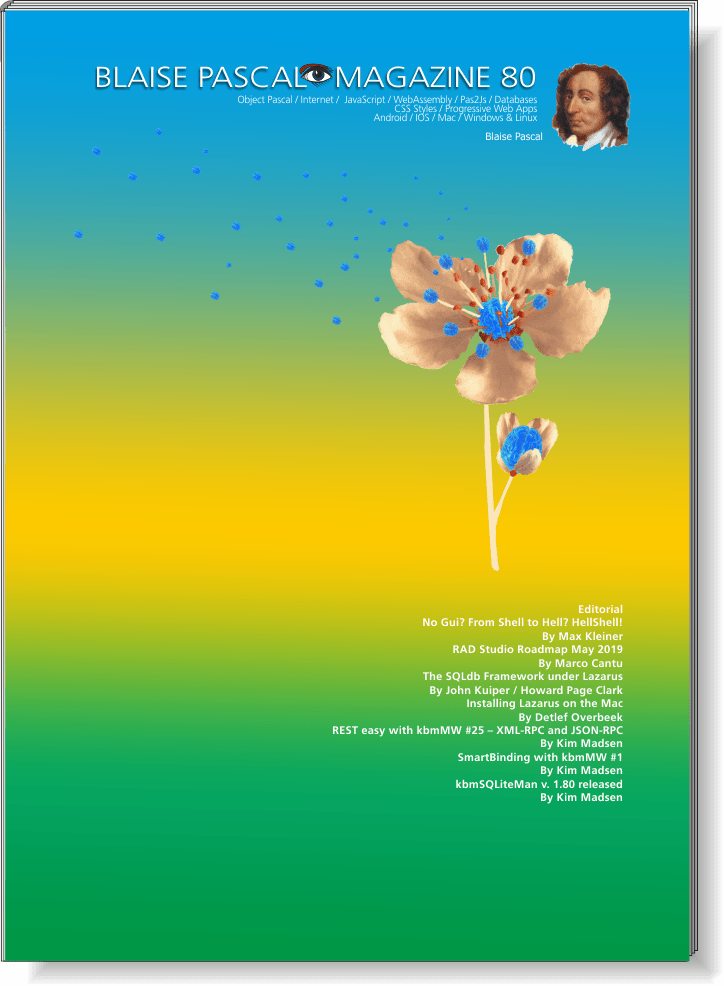 No Gui? From Shell to Hell? HellShell! 
By Max Kleiner
RAD Studio Roadmap May 2019
By Marco Cantu
The SQLdb Framework under Lazarus Page16
By John Kuiper / Howard Page Clark
Installing Lazarus on the Mac Page 30
By Detlef Overbeek
REST easy with kbmMW #25 – XML-RPC and JSON-RPC
By Kim Madsen
SmartBinding with kbmMW #1 Page 45
By Kim Madsen
kbmSQLiteMan v. 1.80 released Page 54
By Kim Madsen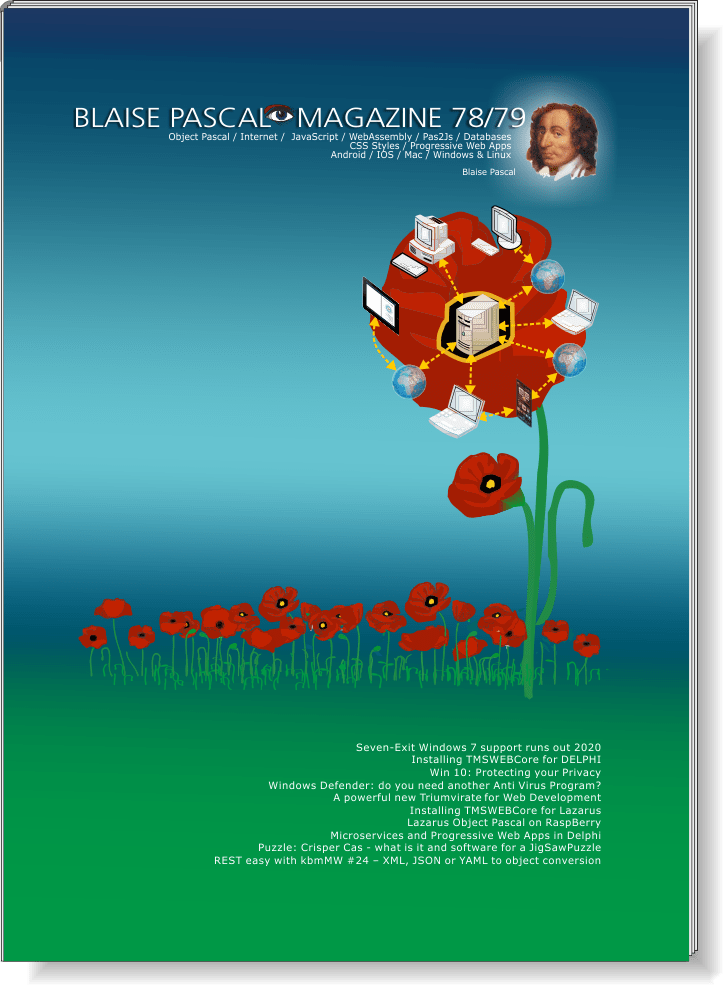 Click on this file: you can preview all the articles.
There are two versions, because the file is large you will have the choice to either download the very large file of 500 MB or a compressed version of 100 MB.
The difference in viewing will be that the quality of images can be of lesser quality.
We will try to solve this problem.

CONTENT
Seven-Exit Windows 7 support runs out 2020
Installing TMSWEBCore for DELPHI
Win 10: Protecting your Privacy
Windows Defender: do you need another Anti Virus Program?
A powerful new Triumvirate for Web Development
Installing TMSWEBCore for Lazarus
Lazarus Object Pascal on RaspBerry
Microservices and Progressive Web Apps in Delphi
Puzzle: Crisper Cas - what is it and software for a JigSaw Puzzle
REST easy with kbmMW #24 – XML, JSON or YAML to object conversion
Important news: (8 May 2019) We have the preview pdf file for download nr 8 for those subscribers that ordered a Lazarus Handbook Presales  we have now 700 pages. If your one of them you should have received the latest version already. If that is not the case please let us know. office @ blaise pascal.eu. … Read More