SPECIAL OFFERS
The New LibStick 2020
see the video in the middle
Details (click)
About the library 2020

Special Offers 1 (click)
4 Items: Libstick / Two Books / Subscription

Special Offer 2: (click)
4 Items: Libstick / Subscription

Special Offer 3: (click)
5 Items: Libstick + USB Stick /
Computer Graphics, Math &Games Book
By David Dirkse / Learn to Program using Lazarus
By Howard Page Clark/ Subscription for 1 year
The Lazarus Handbook has arrived
Comments: (not faked, but real mail message)
Hello There, I have just received The Lazarus Handbook, what a beautiful work ! I was very impressed by the first glance I had with the pdf version, the text is very rich and full of informations, also well structured, but I didn't expect the physical books to be such a pleasure to look at and handle.Thank you for this beautiful job, you have done something rare by the time being. It is going to be a pleasure to work with these manuals, and they will last for long. Have a nice day, keep doing well, thanks a lot,
Thierry
Just received my copy of the Lazarus Handbook. The books are beautiful. Real craftsmanship.
A pleasure to read. Thank you. You and everyone involved have delivered real craftsmanship. Best regards,
J. W. - OctoLynx
Dear Sir, i've just received the *Books* (pre-ordered in 2018) well, they are really nice. They are quality books (as you said back in 2018) and looking at all others IT books i already have, they are the highest quality and finish and by far so many thanks for all this and they are worth any penny. Now I don't know what will be next Books 1 & 2 but could this be the beginning of a "Pascal Encyclopedia". Looking forward a book 3 ... covering pas2js ? Thanks again and kind regards from France
O.RINAUDO
Thank you for keeping me informed about the progress of the Handbook and for making draft PDFs available during its gestation. I am now pleased to report that the printed version has been safely delivered to me. I realize that the production of the book has been a huge effort, and I would like to congratulate you and the other authors for a piece of work that you should all be very proud of. I look forward to using it as my go-to reference now and in the future.
Kind regards N.A. (UK)
The browser Firefox has some problems. Chrome and Edge work just fine.
We are working on it. The VAT number has been solved.
We have created a Zip package to install the special
Special Lazarus 2.0.10 Windows Version (Mac and Linux will follow soon)
with free TMS WebCore Components preinstalled (click here)
We have developed a new Video about the use of our LIBstick and what you can do with it...
The next issue is soon to come: Nr 89

Content of the next Issue 89:
Lazarus 2.0.10 for web:
WEbCore for FREE, for Linux for Mac, and Windows,
a special to install a free group of components
Delphi - Deleaker
helps to find memory leaks in Delphi
MyCloud Data
Delphi server client app: an authors and booklist
available via the internet
Code Snippets for Delphi and or Lazarus
creating buttons and fields that can switch color depending on handling content
Untyped I/O
These records may be transferred without bothering about their internal structure.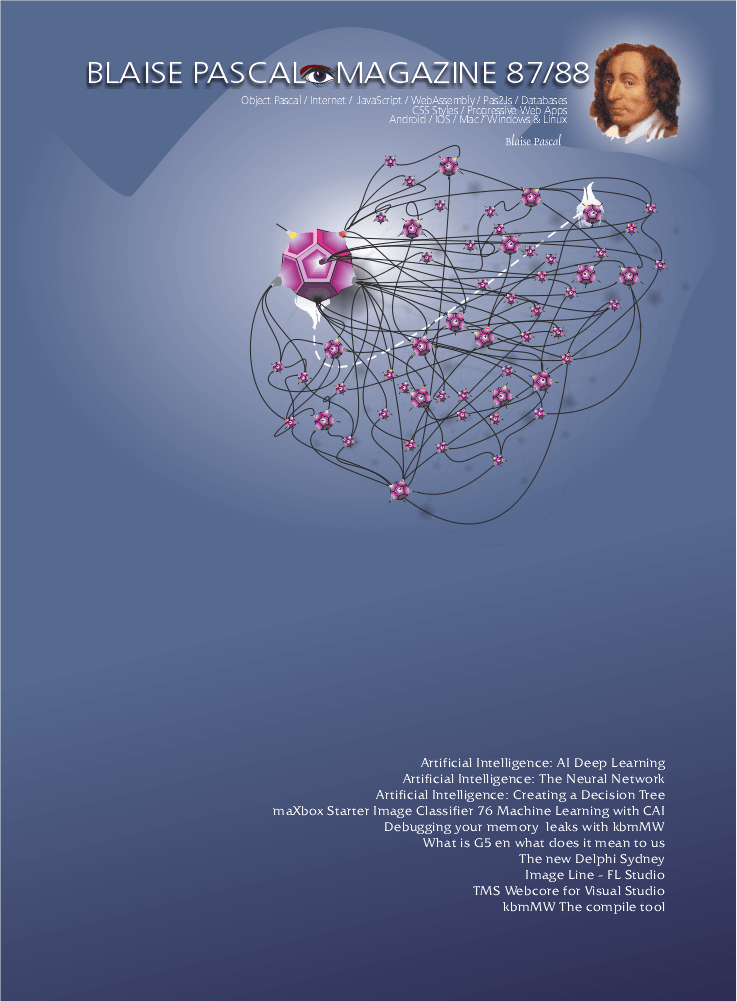 Articles 87/88
From Your Editor
Books: TMS Web App development with Delphi 
Books : Lazarus Handbook
Artificial Intelligence: AI Deep Learning 
Artificial Intelligence: The Neural Network 
Artificial Intelligence: Creating a Decision Tree 
maXbox Starter Image Classifier 76 Machine Learning with CAI
What is G5 en what does it mean to us 
The new Delphi Sydney
Image Line - FL Studio
TMS Webcore for Visual Studio
kbmMW The compile tool 
Short info about the books: The printed versions as you can see them here are at the printers. They will probably available in  2 -3 weeks. If you want to order you can now. Pricing: For the hardcover (2 volumes): 75,00 euro + 25 transport + taxes, including the pdf. 935 pages. You can also pay by bank. … Read More