The Example Projects for the Lazarus Handbook have been updated. All owners will receive a download address by email.
Questions to: office [at] blaisepascal.eu.
List of Example Projects (30) included with the book
borderstyle\ borderwidth\ component_writing_projects\ dbftrack\ dialogdemo\ dragdrop\ dynamicforms\
editordemo\ eventsdemo\ formevents\ gentrackdata\ griddemo\ initialwindowposition\ inkscape-0.92.4-x86\ inputquery\
lazreport\ listviewdemo\ morecontrols\ printers\ questiondlg\
showmessage\ sizing-samples\ sizingwindows\ splitterpairdemo\ statusbardemo\
toolbardemo\ treeviewdemo\ windowmenu\ xmlreader\ XNResourceEditor_3.0.1\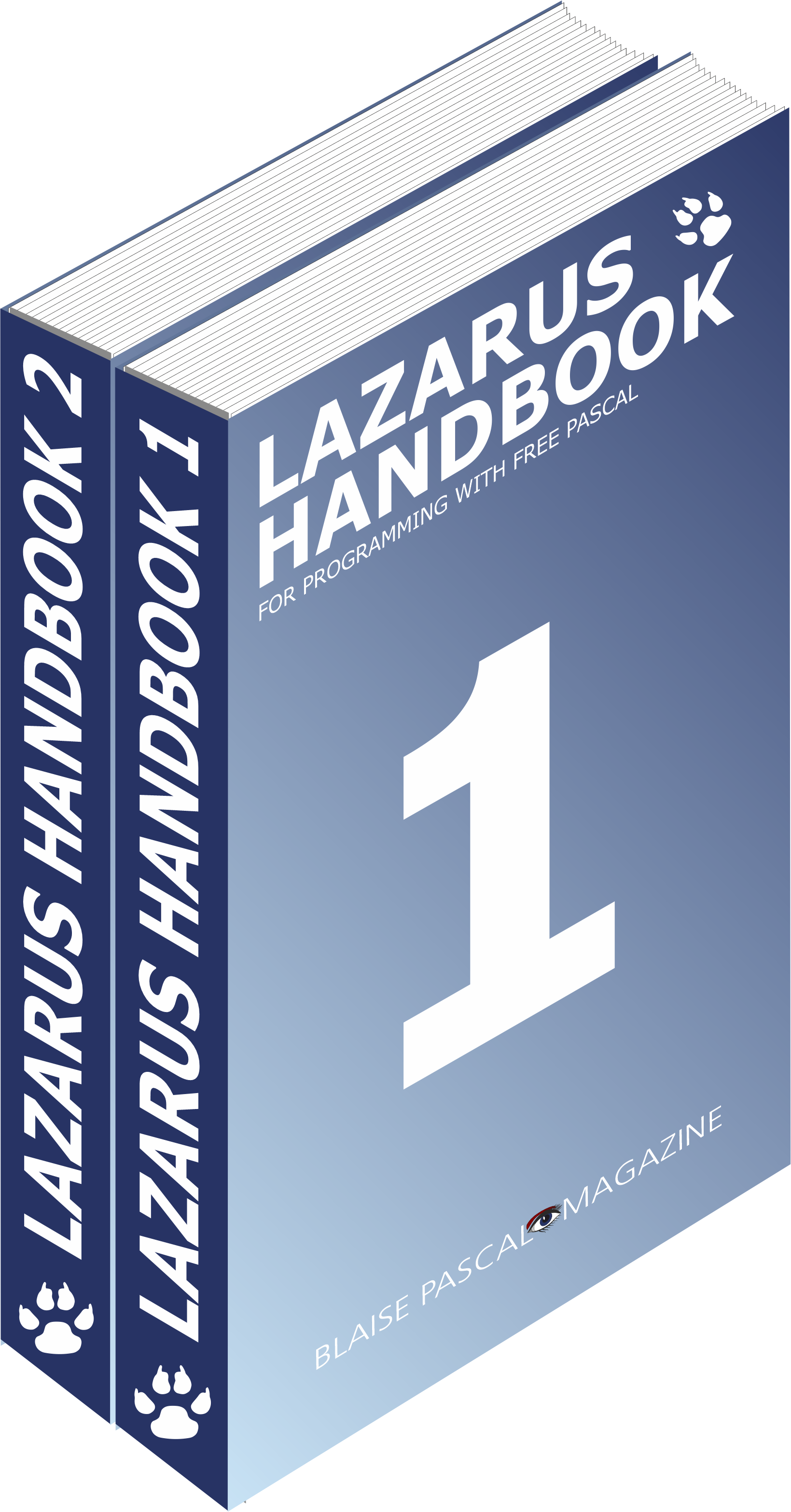 Pricing: For the pocket (softcover)- 2 volumes each about 450 page:
50,00 euro no transport + taxes, including the pdf.
935 pages You can also pay by bank. We will send an invoice first.
The pocket can be ordered here: (click)
Short info about the books:
The printed versions as you can see them here are at the printers.
If you want to order you can now.
Pricing: For the hardcover (2 volumes):
75,00 euro including transport + taxes, including the pdf version.
935 pages. You can also pay by bank. We will send an invoice first.
The hard cover can be ordered here: (click)

Comments:

Hallo Herr Overbeek,
die Bücher sind angekommen!
Respekt für die klasse Verpackung. Da können sich andere Lieferanten eine Scheibe abschneiden.

Die Bücher sind den Aufpreis zum Paperback auf jeden Fall wert und sind sehr wertig verarbeitet. Da macht es Freude drin zu lesen und damit zu arbeiten. Diese Qualität gibt es leider heute nur noch selten.
Mit freundlichen Grüßen
Willi Lethert,
Hello There, I have just received The Lazarus Handbook, what a beautiful work ! I was very impressed by the first glance I had with the pdf version, the text is very rich and full of informations, also well structured, but I didn't expect the physical books to be such a pleasure to look at and handle.Thank you for this beautiful job, you have done something rare by the time being. It is going to be a pleasure to work with these manuals, and they will last for long. Have a nice day, keep doing well, thanks a lot,
Thierry

Just received my copy of the Lazarus Handbook. The books are beautiful. Real craftsmanship.
A pleasure to read. Thank you. You and everyone involved have delivered real craftsmanship. Best regards,
J. W. - OctoLynx
--------
Dear Sir, i've just received the *Books* (pre-ordered in 2018) well, they are really nice.
they are quality books (as you said back in 2018) and looking at all others IT books i already have,
they are the highest quality and finish and by far so many thanks for all this and they are worth any penny.
now i don't know what will be next Books 1 & 2 but could this be the beginning of a "Pascal Encyclopedia"
looking forward a book 3 ... covering pas2js ? Thanks again and kind regards from France
O.RINAUDO
Pricing: For the electronic version(PDF):
50,00 euro + taxes.
935 pages You can also pay by bank. We will send an invoice first.